Boarding
---
JLD Equine offers full care board in 3 barns with attached indoor rings.
The 35 Barn:


12 X 10 stalls
280 X 80 rubber footing indoor
Turn out paddocks
Indoor wash stall with hot and cold water
Tack room
Rest room
Viewing room

The 12 Barn:
10 X 10 stalls
120 X 60 indoor ring
Turn out paddocks
Tack room
Viewing room
Rest room


The 21 Barn:
10 X 10 stalls
120 X 60 indoor ring
Turn out
Tack room
Rest room


Lessons/Training
---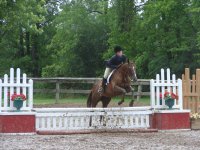 JLD Equine offers a talented staff to accommodate all levels of rider and horses who wish to excel in Hunters/Jumpers, Eventing and Dressage. Meet our trainers.

We offer lessons 6 days a week. Hours are Monday through Friday from 4pm to 8pm and Saturday from 10am to 5pm. Prices are based on type of lesson taken. Discount pricing is available for packages purchased at the beginning of each month, for that month.
Private lesson - 30 minute duration
Semi-private lesson - 45 minute duration (2 students)
Group lesson - 60 minute duration (3 or more students)
**NEW** Tiny Trotters - A young riders program specifically designed for 4-6 year olds. Students will learn the fundamentals of horseback riding with an emphasis on getting children comfortable with the horses. Children will learn about grooming, tack, care of horses, and how to ride. Lessons will consist of learning to steer at the walk around the arena, how to make your horse stop and go, and games on horseback. Children who learn to ride at an early age tend to develop a great self confidence and a natural sense of balance. They also learn responsibility and often acquire a wonderful bond with the animals.

Lesson Office Voice Mail: (585) 200-9934

Trailering
---

Trailering is available for boarders/clients. Please contact Jennifer Duncan at (585) 200-9934 or email JLD Equine for more information on trailering your horse.



Sales/Leasing
---
Due to the size of the barns and amount of horses living at JLD Equine, we have a good selection of horses for sale.

Most are available for in-barn leasing as well. There are many different leasing options, from one day a week to a full lease. Please contact us if you are interested in leasing a horse at (585) 200-9934 or email at JLD Equine.