JLD Equine Summer Riding Program: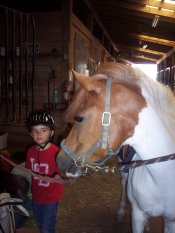 Dates:
June 28 - July 1 (4 days)
July 6 - July 9 (4 days)
July 12 - July 16
July 19 - July 23 (*****NO CAMP*****)
July 26 - July 30 (Week Closed - full)
August 2 - August 6 (Week Closed - full)
August 9 - August 13 (Week Closed - full)
August 16 - August 20 (Week Closed - full)
August 23 - August 27
August 30 - September 3
Horses and fun in the summer sun. Great for new, novice or experienced riders. Lessons, games and explorations on our 125 acre farm. Come join us for our Summer Camp.
This camp is suitable for campers 7 years old and older. Camp runs from 9AM - 3PM each day.

What do we do?

First we learn to be safe! Riding and working around horses can be very dangerous if certain safety rules are not followed. You must always remember that animals can be unpredictable. There are many safety rules you will learn in camp before you can ride a horse.

You will be assigned to A or B group according to your riding ability, (if you have never ridden before that's okay) and you will be assigned a riding partner that will be with you all week to help each other. Most of your learning activities will be hands on (working with a horse).
Be sure to hurry! Space fills up quickly. Download a registration form for sign up information.
Download an information page
Monday:
Safety around horses
Learn to groom and tack
Riding demonstration
Riding
Learn parts of the horse and
Horse terms
Tuesday:
Cleaning stalls
Learn colors and markings
Learn about breeds
Cost of owning a horse
Riding
Wednesday:
Misc. horse care
Arts n' crafts
Riding
Horseback games
Thursday:
First aid demos
Horse illnesses
Arts n' crafts
Bathing Horses
Riding
Friday:
Tack cleaning
Braiding
Riding
Show practice


Please read the following information so you'll know what to bring and how to dress:
Bring your own lunch and drink (refrigerator available).
Bring a plain white t-shirt with you the first day. This will be used for arts n' crafts later in the week.
Wear long pants and shoes or boots with hard soles with small heels. You may bring shorts and sneakers for non-riding activities.
Riding helmets will be worn during all mounted activities. We will supply all helmets, but if you have one, please bring it with you. Bike helmets are not ASTM F-1163-04a/SEI certified and therefore are not acceptable helmets.


Note to parents: If you wish to confirm your spot, please call (585) 200-9934 or email JLD Equine.